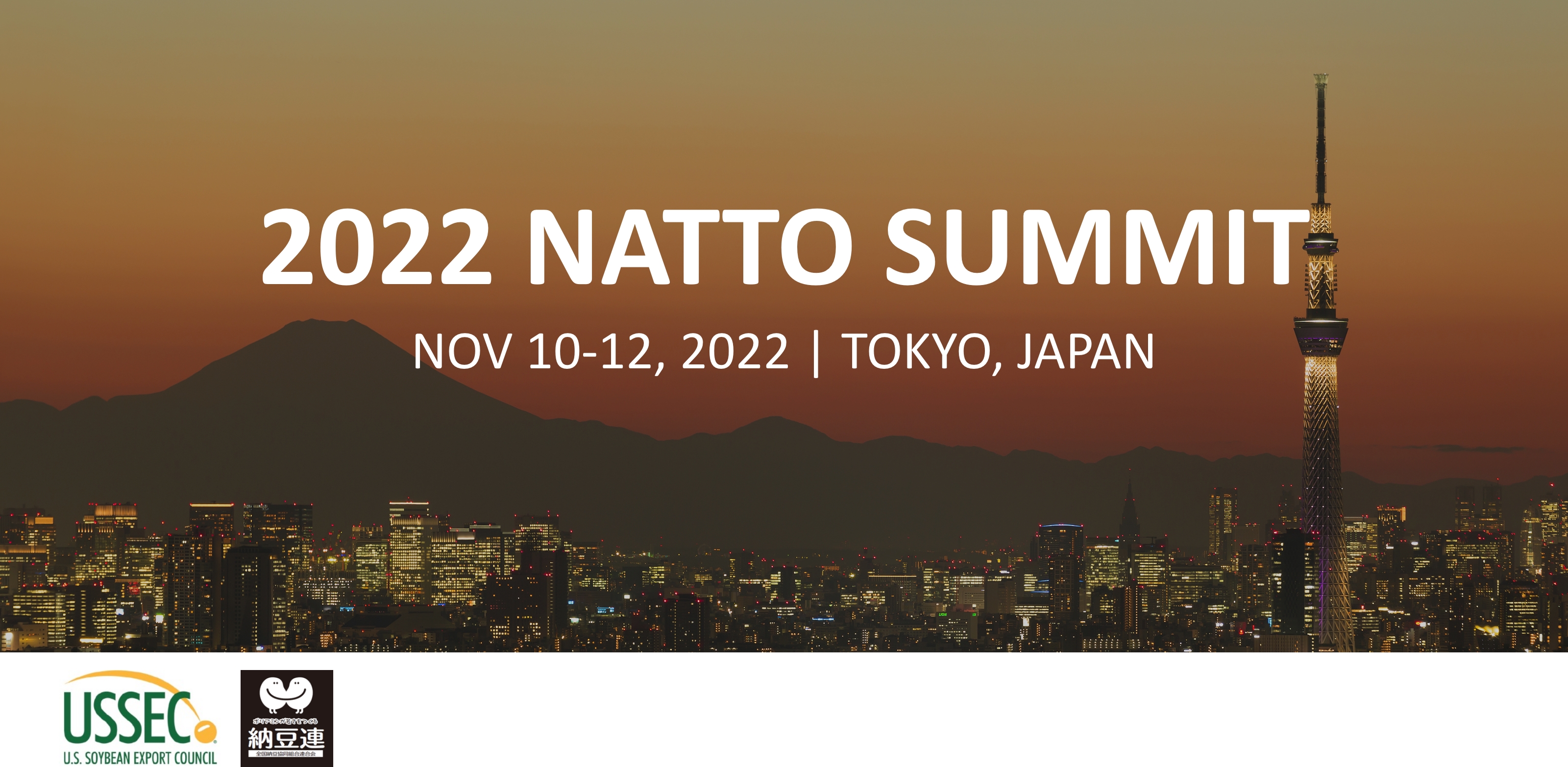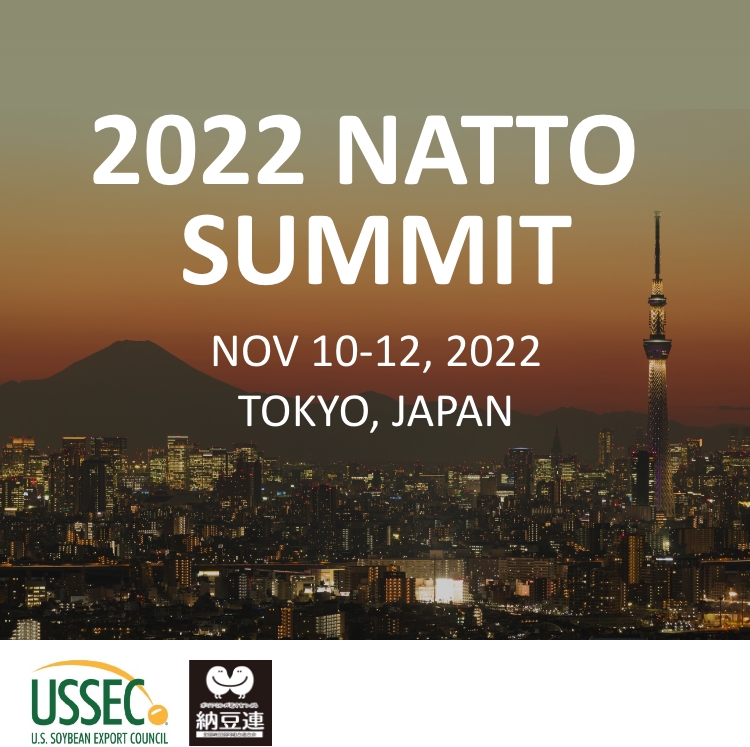 Introduction:
The U.S. Soybean Export Council and Japan Natto Cooperative Society Federation welcome you to 2022 NATTO SUMMIT. This is a 3-day conference organized by USSEC and JNCSF and made possible through the support of our U.S. Soybean Producers as well as our key partners, the Specialty Soya and Grains Alliance (SSGA). This year the JNCSF will also organize the National Natto Competition in Mito City, the birthplace of natto, on the day before the Natto Summit. In addition, USSEC will host the U.S. Soy Buyers Outlook Conference the week after the Summit as well!
The purpose of the NATTO SUMMIT is:
・ Exchange opinions on the most recent soybean raw materials for natto
・ Share information on soybean production regions, and build future-oriented partnerships
・Create a valuable opportunity for exchange between natto producers and U.S. soybean producers
Details of the event will be announced at a later date.
We look forward to seeing you at the summit!
COVD-19 related info:
Passengers who have been fully vaccinated and boosted with vaccines approved by the Japanese government and who are arriving in Japan as of Sept 7 will not require a pre-travel COVID-19 test. Also short-term travelers will no longer be required to apply for VISAs.
Please go to the Ministry of Health, Labor, and Welfare's website for more details.
WHAT
IS ABOUT
・Buyers, distributors and producers to build direct relationships
・Discuss and share the concerns, challenges and opportunities
・Look, Listen and Feel with your heart!
WHO
TO ATTEND
・U.S. Natto Bean Suppliers/Farmers
・Japanese Natto Companies
・USSEC/SSGA/JNCSF Members
HOW
TO REGISTER
・Click on the Registration button
Venu Information
Hotel New Otani Tokyo
The Main Quality Double Room (Embassy Rate) : JPY 29,000 (USD 207 1$=JPY140)
Breakfast : Complimentary
Wi-fi : Complimentary
Gym : Complimentary
Limo Bus : HND 60 min JPY1,500 (USD 12)
     NRT 120 min JPY 3,200 (USD 25)
Remarks : +JPY 5,000 for 2nd Occupant
Address : Tokyo 4-1, Kioi-cho, Chiyoda-ku, Tokyo 102-8578, JAPAN
TEL : +81-3-3265-1111
FAX : +81-3-3221-2619
DAY 0|NOVEMBER 9, WED
TIME
ACTIVITY
SPEAKER
LOCATION
AM
Natto Competition 

INVITATION-ONLY



Natto Summit Participants Arrive in Tokyo
Hotel Check-in
ー
Mito, Ibaragi


Tokyo
DAY 1|NOVEMBER 10, THU
Consective Translation will be provided
TOPICS
U.S. Suppliers Panel: Production in 2022
Issues Regarding Container Transportation
New IP Logo
Japanese Natto Market
Lunch
Non-GMO Natto Soybean Production and Supply Capability
Retail Tour
Dinner
DAY 2|NOVEMBER 11, FRI
Consective Translation will be provided
TOPICS
Global Food Trend
Labeling Law Change
Japanese Natto Export Opportunity & Challenges


Lunch
Tokyo Cultural Tour


Dinner
DAY 3|NOVEMBER 12, SAT
Consective Translation will be provided
ACTIVITY
Natto Plant Tour
Lunch
Kawagoe Cultural Tour
Dinner
DAY 4&5|NOVEMBER 13-14, SUN-MON
Simultaneous Translation will be provided
DAY 6|NOVEMBER 15, TUE
ACTIVITY
USSEC U.S. Soy Buyers Outlook Conference